Downtown Grantham Designer Outlet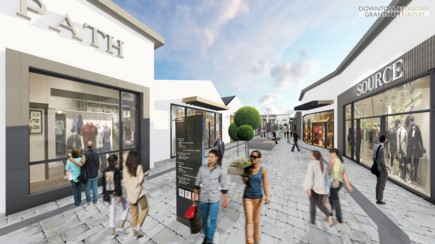 Hub Transport Planning are delighted to report that plans for Downtown Grantham Designer Outlet, a new £125m Designer Outlet Centre, at the site of the existing Downtown Store and Garden Centre in Grantham, have been granted outline planning permission.
The proposals also include a new 'Downtown at Home' store, an indoor leisure unit, a new tourist information and visitor centre, and the redevelopment of the site's existing garden centre to create a new, modern and vibrant environment.
The retail and leisure facilities will be complemented by space for new and growing businesses, including a high-tech hub and incubator start-up offices. In addition, the scheme includes the construction of a new training academy, which will be delivered in partnership with Grantham College.
Hub Transport Planning provided transport and access advice throughout the planning process which included preparation of a Transport Assessment, Travel Plan and input into an EIA. Hub consulted extensively with Highways England and Lincolnshire County Council to ensure that the potential impacts of the development were fully mitigated.
It's been a pleasure working with Oldrids & Downtown to deliver this high-quality scheme in partnership with Fisher German, Cushman & Wakefield, and Brookerflynn Architects.